Heartwearming Pictures Of The First Same Sex Couples Allowed To Marry In Cook County, Ill.
Same-sex couples in Cook County, Ill., originally had to wait until June 1 to wed. But on Friday, U.S. District Judge Sharon Johnson Coleman ruled that same-sex couples could marry immediately.

A federal judge ruled that same-sex couples were allowed to marry in Cook County, Ill., on Friday.
On Nov. 20, Gov. Pat Quinn signed the state's same-sex marriage bill into law, which granted same-sex couples the right to marry starting June 1.
But in her decision announced Friday, U.S. District Judge Sharon Johnson Coleman wrote,/a> "There is no reason to delay further when no opposition has been presented to this Court and committed gay and lesbian couples have already suffered from the denial of their fundamental right to marry."
This couple was allowed to marry weeks ago because of a medical exemption; they were the first couple to wed under this law.
David Orr @cookcountyclerk Follow
One of the four same-sex couples who have gotten their marriage licenses today in Cook County. #marriageequality
Windy City Times @WindyCityTimes1 Follow
Mercedes and Teresa married the third today. Cook county
On Saturday, more than 20 same-sex couples got married in the three hours the First Municipal District Marriage and Civil Union Court in downtown Chicago was open, Court Clerk Michele Roberts said.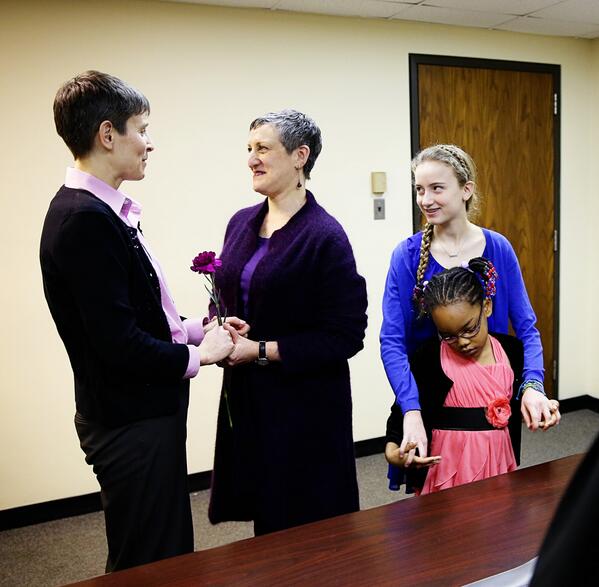 Chicago Sun-Times @Suntimes Follow
"43 years" "That's a long time to wait" Same-sex couples get married in Cook County http://t.co/aX4rG5Ne4N
Congratulations to the happy couples!
Read more: http://buzzfeed.com/aaronc13/heartwarming-pictures-of-cook-county-ill-after-same-sex-coup
---
---